Thermaltake New Toughpower iRGB PLUS Gold Series
TT Premium Edition
16.8 Million-Color Digital RGB Power Supply with 18 Addressable LEDs


Las Vegas, United States-January 9th, 2019-Thermaltake, the leading PC DIY premium brand for Cooling , Gaming Gear and Enthusiast Memory solutions, has expanded the Toughpower iRGB PLUS family with the Toughpower iRGB PLUS Gold Series- TT Premium Edition, which includes 3 models: 1000W, 850W and 750W. The Gold-certified members are the first ever in the world to pack the patented ultra-silent, 16.8 million-color Riing Duo 14 RGB fan with 18 addressable LEDs preinstalled (12 on the fan frame and 6 around the hub), providing vivid 14 lighting mode options. The series is supported by Thermaltake's technologically advanced PSU/PC management platform, Smart Power Management, so users get to control the lighting and digitally manage their asset anytime, anywhere while staying green. The Toughpower iRGB PLUS Gold Series is also a new addition to the TT RGB PLUS Ecosystem, where users can control illumination and experience synchronized RGB lighting effects on their TT RGB PLUS system through a few clicks or AI Voice Control. Thermaltake has even taken lighting synchronization to the next level teaming up with Amazon Alexa and Razer Chroma.
Outside of RGB illumination, the fully modular members feature 100% premium Japanese capacitors, Smart Zero Fan, excellent <30mVripple suppression and steady voltage output for amazing reliability and very silent operation. Backed up by a hefty 10-year warranty, the Toughpower iRGB PLUS Gold Series permits a captivating way to make users' systems match their intended color scheme and gives best-in-class, mute operation for all kinds of chassis.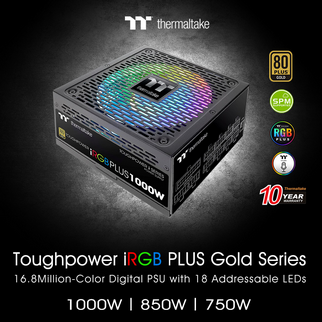 Further information on Thermaltake at CES 2019 is available on our dedicated CES 2019 website: https://ces.thermaltake.com/2019/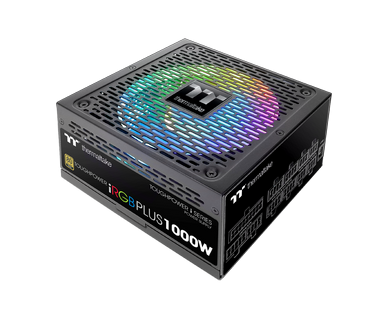 What is Smart Power Management (SPM)?
Smart Power Management (SPM) is a cloud-based software that seamlessly integrates three intelligent platforms – DPS G PC APP, DPS G Smart Power Management Cloud and DPS G Mobile APP– and compiles key statistics about your PC into detailed charts and breakdowns for your instant PC status view and management. With easy access to SPM through your PC or mobile devices, whether you are outside or indoors, enjoy taking full control of your build anytime, anywhere!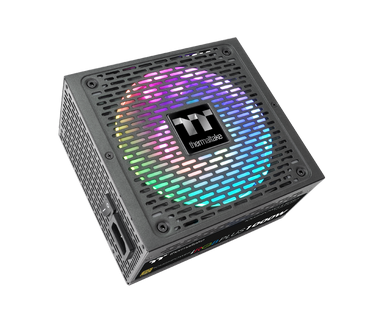 What is TT RGB PLUS Ecosystem?
TT RGB PLUS Ecosystem is the intelligent lighting system for PCs that combines the most advanced addressable LED lighting with Thermaltake's patented TT RGB PLUS Software, Razor Chroma, and Amazon Alexa Voice Service. TT RGB PLUS ecosystem provides nearly unlimited possibilities for playing with colors, synchronizing lights to games, music, CPU temperatures, Razer Chroma supported gaming peripherals or other TT RGB PLUS products, including case fans, CPU/VGA waterblocks, AIO CPU coolers, PSUs, LED strips, gaming keyboards, headsets, mice and mouse pads. The patented TT RGB PLUS software allows users to change the light modes, colors, speeds, brightness, fan speeds via TT AI Voice Control and Amazon Alexa Voice Service.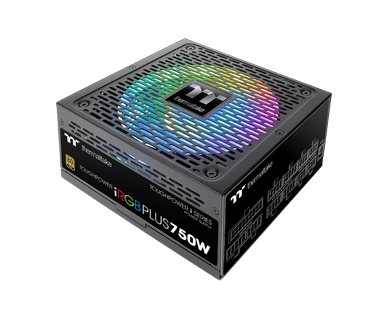 Features of the Toughpower iRGB PLUS Gold Series (750W/850W/1000W) TT Premium Edition:
DPS G Smart Power Management
SPM comes in the spirit of optimizing the system performance, encouraging flexibility and saving
energy to cover all these user-oriented issues:
PC APP displays real-time key parameters of PSU consumption. Mobile APP and Cloud
system collect historical data in easy-to-read charts for your review.
Via PC APP users see real-time status of CPU/RAM/multiple VGA graphics cards. For
historical data, our Mobile APP and Cloud system have them all covered!
Intuitive RGB Lighting Control
Either on PC APP or Mobile APP, an intuitive RGB lighting control dashboard awaits! Users
can even verbally command lighting modes via AI Voice Control on Mobile APP.
PC APP includes 3 fan modes: Silent, Performance and Zero Fan. "Silent" slows down fan speed to
lower noises; "Performance" speeds up the fan to optimize thermal performance; "Zero Fan" starts up the fan on a specific percent of loading so as to minimize PC audible noises.
Malfunction Warning Alert
Real-time warning alert appears on PC APP, Mobile APP and also your email inbox when fan
failure, PSU over temperature (over 140°F/60°C), or abnormal voltage level (over/under 5% of
normal level) occurs. Then users can shut down their PC remotely to avoid further damage.
Mobile APP and Cloud enable users to turn off the PC remotely when they receive the warning
message or when they schedule PC to shutdown at any time they want, all through their PC/mobile device.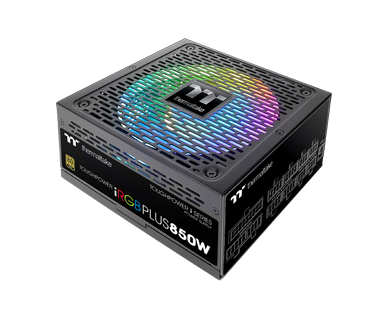 Easy to Get Your Desired Color
Through DPS G PC APP and Mobile APP, the 16.8 million color Riing Duo 14 RGB fan can be switched among 14 lighting modes (Full lighted, Flow, RGB Spectrum, Ripple, Blink, Pulse, Wave, Cross, Firefly, Heartbeat, Stack, Roundabout, Swirl and Thermal) and an LED off. Each lighting mode features four light speed options (Extreme, Fast, Normal, Slow). The apps also allows users to customize the RGB lighting remotely for their power supply fan, and even let the LED dance in sync with the beat. Making your systems match the color scheme you want has never been so easy!

Patented 16.8 Million Colors Riing Duo 14 RGB Fan
The Toughpower iRGB PLUS Gold Series features patented ultra-silent, 16.8 million-color Riing Duo 14 RGB fan with 18 addressable LEDs preinstalled (12 on the fan frame and 6 around the hub) to provide vivid 14 lighting mode options. Users can freely adjust fan speed and customize the lighting effects with Thermaltake DPS G PC and Mobile App/TT RGB PLUS Software.

18 Addressable RGB LEDs at Your Control
Featuring 18 addressable single LEDs, great light coverage, uniform color and brightness, users are allowed to easily configure the RGB lighting and freely adjust fan speed with Thermaltake DPS G PC and Mobile App/TT RGB PLUS Software.

< 30 mV Low Ripple Noise
All ripples are lower than 30mV for high stability on +12V, +5V, or +3.3V from 0% to 100% load to ensure a high quality power supply.

Extremely Strict Voltage Regulation < ±2%
Our voltage regulation of the PSU is more strict than Intel's. It is set to no more than ±2% for major rails to meet the highest performance.

100% High Quality Japanese Capacitors
Features 100% high quality Japanese brand capacitors to greatly improve the durability and offer the highest stability and reliability.

Fully Modular Cable Design
Fully modular power supply offers cable selection for users while powering the system at an advantageous voltage. Flat cable makes cable management easier, reduces clutter and increases airflow inside the chassis.

Core Component: MCU
Toughpower iRGB PLUS Gold Series comes with a 32Bit Microcontroller Unit (MCU) from Microchip Technology. The 32Bit MCU is a small computer on a single integrated circuit containing a processor core, memory, and programmable input/output peripherals. MCU can digitally control devices and processes, such as automobile engine control systems and office machines.

80 PLUS Gold-Certified and Intel C6/C7 States Ready
Toughpower iRGB PLUS Gold Series Power Supply delivers up to 90% efficiency under real-world load conditions, promising the lowest power losses. Additionally, this series has been optimized to work with all generations of Intel's processors to achieve maximum energy saving.

Availability, Warranty, Compatibility and Pricing
The new Toughpower iRGB PLUS Gold Series PSUs will be available in January 2019, via the Thermaltake worldwide network of authorized retailers and distributors. Toughpower iRGB PLUS Gold Series power supplies are backed by a ten-year warranty and supported by the Thermaltake worldwide customer service and technical support network. For up-to-date pricing of the new Toughpower iRGB PLUS Gold Series power supply, please refer to the Thermaltake website or contact your local Thermaltake sales or PR representative.

For more details on Toughpower iRGB PLUS Gold Series (750W/850W/1000W):- TT Premium Edition, please visit:
750W-
https://www.thermaltake.com/pre_products-model.aspx?id=yveUIBJxnJSGCF3FVTXHlg%3d%3d
850W- https://www.thermaltake.com/pre_products-model.aspx?id=5%2b7njdOfwJKukqBoPIJ3kg%3d%3d
1000W-
https://www.thermaltake.com/pre_products-model.aspx?id=z7Z8nawetNKmmFx26%2fml3g%3d%3d

Where to buy Thermaltake Toughpower iRGB PLUS Gold Series 1000W:
TT Premium Europe- https://ttpremium.eu/product/ps-tpi-1000f3fdgx-1/
TT Premium Australia- https://ttpremium.com.au/product/ps-tpi-1000f3fdgx-1/
TT Premium Taiwan- https://ttpremium.com.tw/product/ps-tpi-1000f3fdgx-1/
TT Premium China- https://ttpremium.com.cn/product/ps-tpi-1000f3fdgx-1/
TT Premium Asia- https://asia.ttpremium.com/product/ps-tpi-1000f3fdgx-1/
TT Premium Global-
https://ttpremium.com/product/toughpower-irgb-plus-1000w-gold-tt-premium-edition/



Where to buy Thermaltake Toughpower iRGB PLUS Gold Series 850W:
TT Premium Europe- https://ttpremium.eu/product/ps-tpi-0850f3fdgx-1/
TT Premium Australia- https://ttpremium.com.au/product/ps-tpi-0850f3fdgx-1/
TT Premium Taiwan- https://ttpremium.com.tw/product/ps-tpi-0850f3fdgx-1/
TT Premium China- https://ttpremium.com.cn/product/ps-tpi-0850f3fdgx-1/
TT Premium Asia- https://asia.ttpremium.com/product/ps-tpi-0850f3fdgx-1/
TT Premium Global-
https://ttpremium.com/product/toughpower-irgb-plus-850w-gold-tt-premium-edition/


Where to buy Thermaltake Toughpower iRGB PLUS Gold Series 750W:
TT Premium Europe- https://ttpremium.eu/product/ps-tpi-0750f3fdgx-1/
TT Premium Australia- https://ttpremium.com.au/product/ps-tpi-0750f3fdgx-1/
TT Premium Taiwan- https://ttpremium.com.tw/product/ps-tpi-0750f3fdgx-1/
TT Premium China- https://ttpremium.com.cn/product/ps-tpi-0750f3fdgx-1/
TT Premium Asia- https://asia.ttpremium.com/product/ps-tpi-0750f3fdgx-1/
TT Premium Global-
https://ttpremium.com/product/toughpower-irgb-plus-750w-gold-tt-premium-edition/